---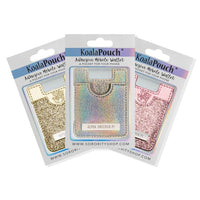 Product Description
Show your sorority pride with the NEW Glitter Koala Pouch, adhesive cell phone wallet, the perfect solution for the multitasker on the go! Our NEW Koalas are made of faux leather and come in 3 styles: Gold Glitter, Pink Glitter and Holographic Finish. Each style has your organization's name engraved on a high-gloss metal plate. Keep all of your valuables safe and secure in one place while reducing the amount of items you routinely carry. The Koala Pouch will securely hold up to 3 cards at a time and helps you with gripping your device as well.
WHAT YOU'LL LOVE
•Fits most phones or cases.
•Conveniently stores your on-the-go necessities.
•Holds up to 3 cards at a time.