---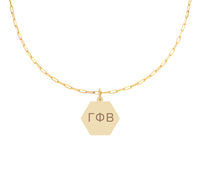 The perfect gift of Sisterhood!
Our Paperclip Style Chain Sorority Necklace features your sorority's Greek letters on a 15mm hexagon shaped pendant, with a paperclip style chain, all dipped in 18K Champagne gold!
Perfect for a bid day gift, big little gift or a treat for yourself!
A unique paperclip style chain necklace.
Made with Stainless Steel and gold plated with a premium 18k gold vacuum plating. Creating both brilliance and strength.
Designed with an 18 inch chain length along with 2" of extra links for adjusting to your perfect size.