---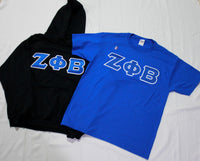 Looking to be the best of the best? With our Alumni Package, you'll be running circles around anyone who thinks they have more Group Pride than you do. Do not fret this package is for anyone, we just believe alumni would love this simple package

This Package contains;

1 T-shirt

1 Greek Letter Pin

1 Hoodie

 

All garments include three 2-color, 4" Greek letters

 

To see available twill colors,

please visit our 

Twill Swatches

 page.