---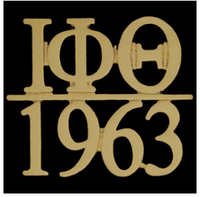 Chapter Bar Lapel Pins are a perfect addition to your polished gold and silver Greek Letter Pins. Founded years are more popular than ever. With the combination of Greek Letters, the Founded Year and our brilliant polished plating, you will have another winner and one that will surely bring repeat sales. Butterfly clutch back. Approximately 1 1/16" tall.
The colors shown on your monitor may vary from their original color or appear faded.  
All items delivered are assured to follow each organization's color standard.